Bulletin III for 9th ACFA Workshop and GDE Meeting
IHEP, Beijing, Feb 4-7, 2007
I. Airport Shuttle Bus Arrangement
The ILC GDE Meeting and the 9th ACFA ILC Physics & Detector Workshop is to be held from Feb. 4-7 on campus of IHEP. The local organizing committee is planning to arrange airport shuttle bus to Holiday Inn and Guest House on Feb. 3.

You will be met by IHEP staff at the lobby of Capital Airport. They shall hold a sign of BILCW07, and guide you to the shuttle bus.
Shuttle Bus on Feb 3rd, 2007
Leaving time at the airport for hotel:
1. 8:40AM
2. 10:55AM
3. 15:00PM
4. 17:10PM
5. 21:40PM
Shuttle Bus fare:
1. Airport to Holiday Inn/Guest House: 40 RMB Yuan/5 $/4 Euro/600 JPY
2. Holiday Inn/Guest House to Airport: 40 RMB Yuan/5 $/4 Euro/600 JPY
In addition, we are planning to arrange airport sending on Feb. 8, please tell your departure flight time when doing on-site registration.
II. Roadmap from Airport to Guest House and Holiday Inn
In case that you miss the shuttle bus arrangement, please refer to the following roadmap and make use of the tips with Chinese translation: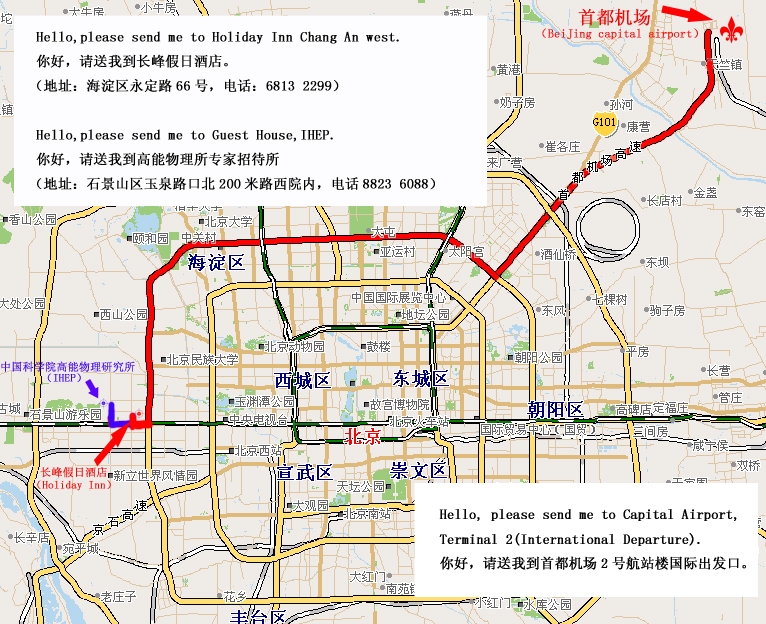 III. Hotel reservation confirmation
The hotel reservations in registration are all confirmed here, except that there maybe some change at Guest House until you are informed of by e-mail.
IV. On-site registration
On-site registration is dated on Feb. 3 at Holiday Inn, starting from 8:30am by side of the Reception Desk. The registration is to be designed in two lines for ACFA and GDE separately. We are grateful and it will be more efficient should you tell us your id number first at the registration. For on-site payment of conference fee, only cash is accepted.
A Headoffice shall be set up in A413 of the Mainbuilding at IHEP on Feb. 4-7, which takes care of delayed on-site registration as well as other things involved in the meetings.
In addition, we are planning to arrange acrobatics performance watching on the evening of Feb. 7. Please tell when doing on-site registration if you are interested to join in.